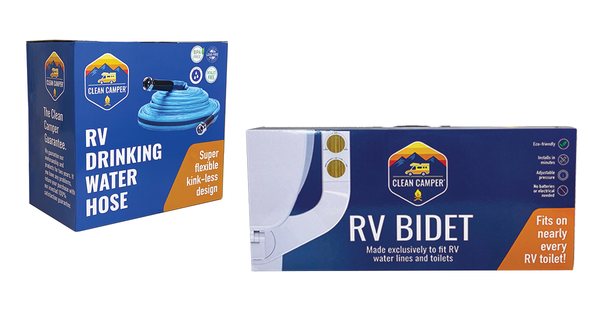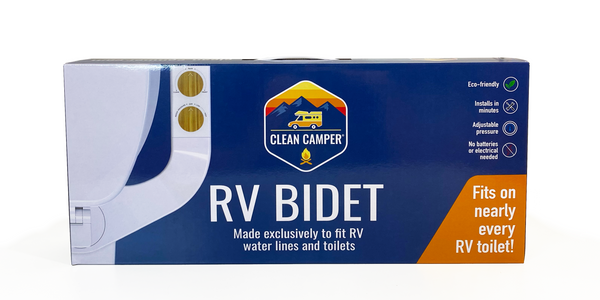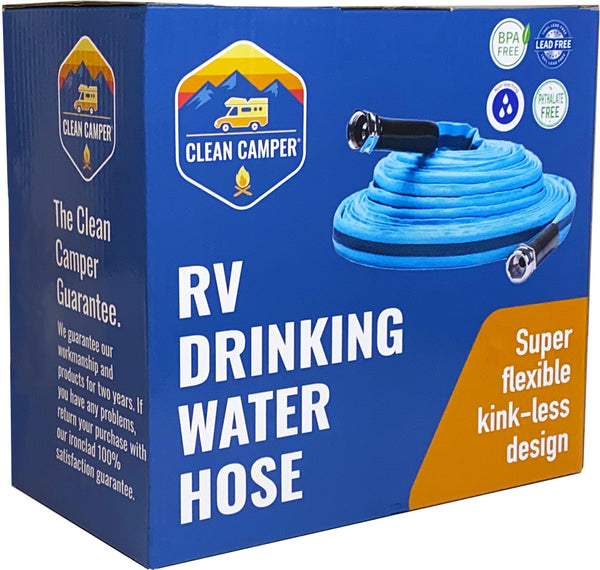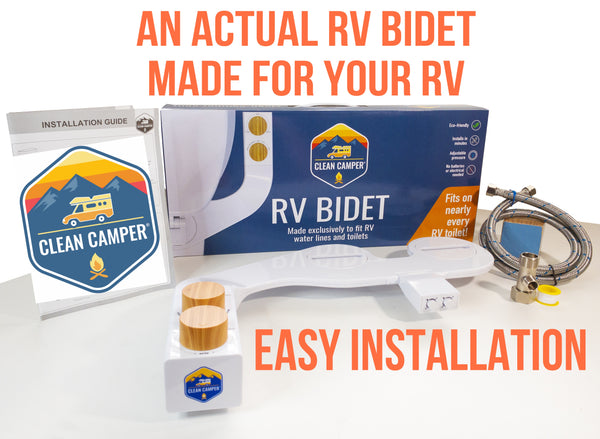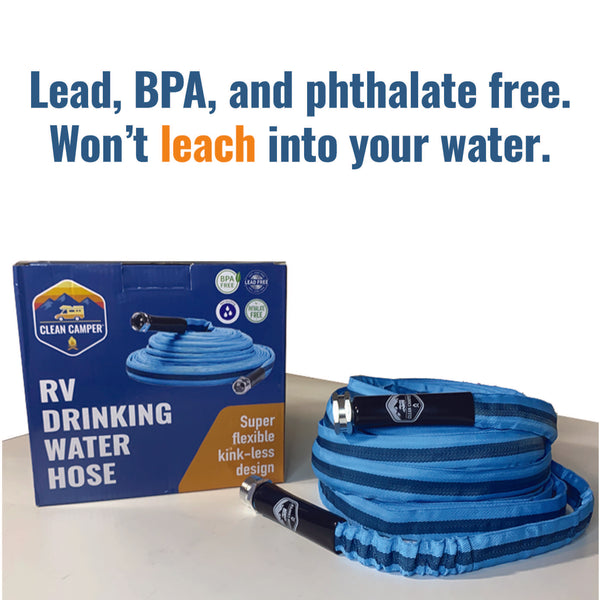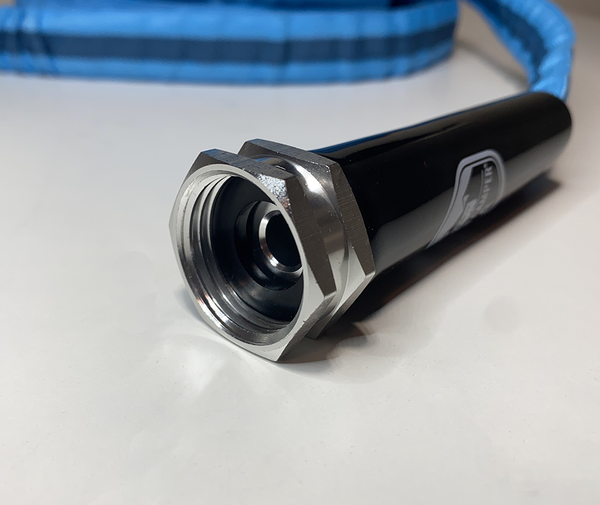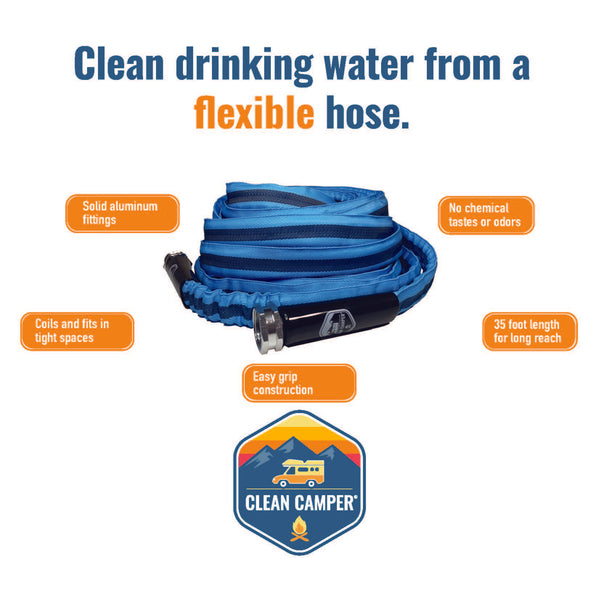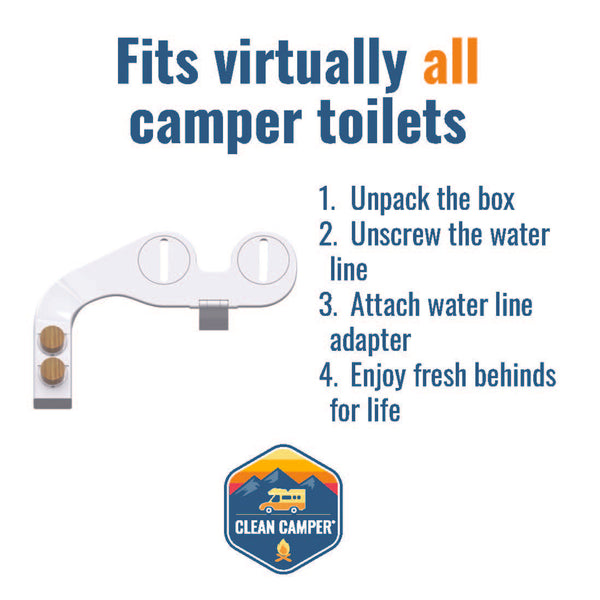 BUNDLE AND SAVE PACKAGE
Upgrade your RV Camping experience with our "BUNDLE AND SAVE PACKAGE" with the Clean Camper RV Bidet and our Clean Camper 35' RV Drinking Water Hose.
 INTRODUCING THE MOST IMPORTANT UPGRADE YOUR RV WILL EVER GET!
The Clean Camper RV Bidet is specifically made to fit your existing RV waterline connection and most RV toilets.  A bidet attachment makes using the bathroom in your RV a much cleaner experience.  No more expensive RV toilet paper or clogs!  
Why install the Clean Camper RV Bidet?
Use 80% Less Toilet Paper
100% Cleaner Than Wiping with Toilet Paper
Keeps Your Holding Tank Cleaner- Clog Free
No More Poo Pyramids
Front and Rear Cleaning
Adjustable Water Pressure
Self-Clean Nozzles
Reversible- Can Fit on Left or Right Side of Toilet
Installs in Minutes
Fits All RV Waterlines and Most Toilets
Uses Same Amount of Water as a Normal Flush
Use Clean Setting to Prefill Your Toilet Bowl Instead of Using Your Foot
Made For Campground Water Pressure or RV Water pumps
No Batteries or Electricity Required- Runs off Water Pressure
Equipped with Back Flow Preventer 
Two-Year Warranty 
 SAVE TOILET PAPER- SAVE YOUR HOLDING TANK- SAVE YOUR TUSH!
CLEAN DRINKING WATER FROM A FLEXIBLE HOSE!   
ITS FINALLY HERE!  NO MORE STIFF, IMPOSSIBLE TO COIL AND BULKY RV HOSES THAT ARE TOO SMALL OR TOO LONG.  THE CLEAN CAMPER RV DRINKING WATER HOSE IS 35' LONG, JUST THE PERFECT SIZE FOR ALL RV CAMPGROUND HOOK-UPS.
Made from non-leaching materials, our hose is BPA, phthalate, and lead free. So drink with peace of mind.  No odors or smells.  Just clean water delivered to your RV faucets.
BPA FREE- PHTHALATE FREE- LEAD FREE

SOLID ALUMINUM FITTINGS ON EACH END

CAN WITHSTAND 800 PSI

MADE FOR LONG TERM WATER PRESSURE AT CAMPGROUNDS

EASILY COILS AND FITS IN TIGHT SPACES

KINK RESISTANT DESIGN

35' LONG- THE PERFECT SIZE 
SAVE BIG WHEN PURCHASING OUR BUNDLE PACKAGE!
Clean Campers are Happy Campers
We create products that inspire people to spend time outside, love nature, and create great memories.
We spread the love of nature by providing innovative and practical solutions to common problems that come with being outdoors.

What a big difference the RV bidet makes for keeping us "clean" and best of all minimizing our toilet paper usage.
Tommy
Actual Jayco Precept Owner

I love how we can connect this fire pit to our built-in RV propane tank. Connects in seconds and the hose must be 25' long! We love it.
Sam

Finally a bidet toilet seat that connects to an existing RV waterline and toilet! Took maybe 10 mintues to install.
James