Our Story
Clean Camper is a specialty RV supplier that produces practical, environmentally-friendly products that make RV camping easier and more enjoyable. We guarantee that each product is manufactured with the highest standards.
As a family-owned, Southern California business, we understand the dreams of our customers for the perfect outdoor getaway. The Kaiser family has gone from an old pop-up camper, Grand Design Imagine to an Entegra Class A motorhome. They are active RV'ers and camp all around California, staying at state parks, regional parks, and Thousand Trails campgrounds. Be sure to say hello if you see them out camping!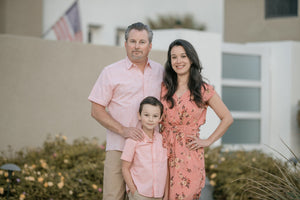 OUR WHY
As regular RV campers, we got tired of spending hours online searching for solutions to make our camping trips easier and more enjoyable. It seems the "big guys" have been doing business as usual for decades. Try searching "install bidet on RV toilet." There are lots of opinions and "rigging" solutions. Same for finding a way to quick-connect your fire pit to your RV's built-in propane tank. We also struggled to find an easy-to-use, truly flexible drinking water hose that coils instantly. Out of frustration, we decided it was time to create products designed for RVs. We strive to provide products that have actually been tested and work in the rigorous RV environment.
Be sure to join our Clean Camper newsletter to stay in touch! We will make your RV life easier and CLEANER!