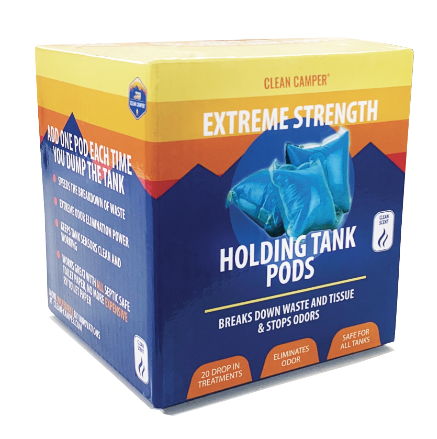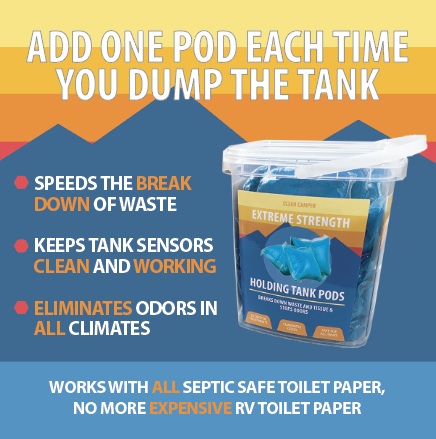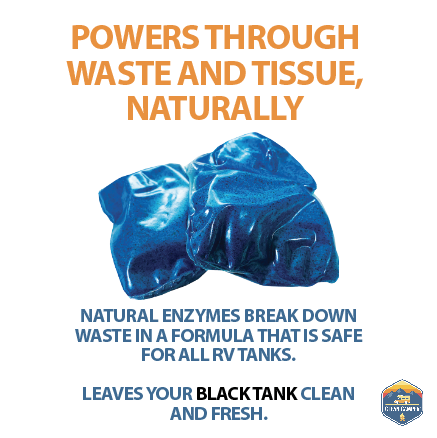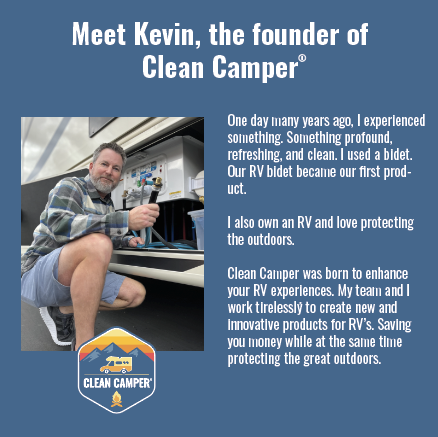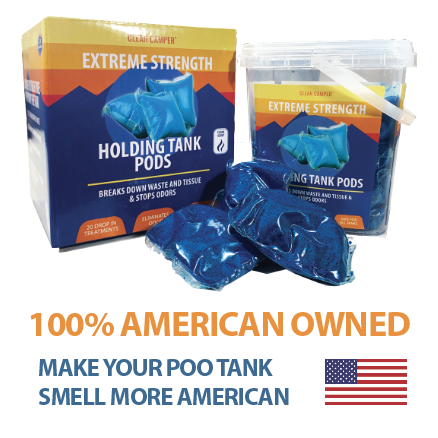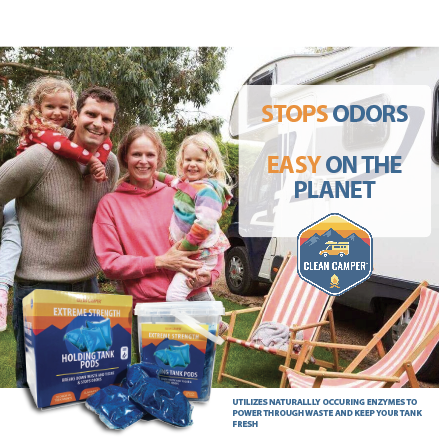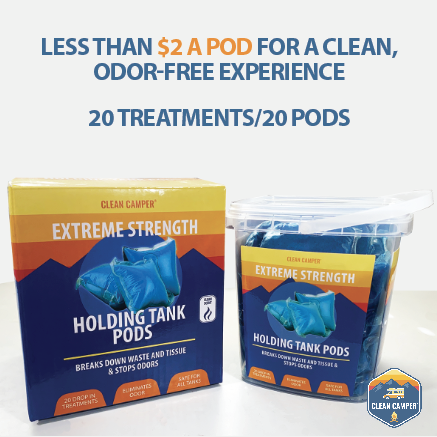 Introducing Clean Camper RV Holding Tank Pods!
Your Ultimate Solution for RV Holding Tank Sanitation
When you're out on the open road, enjoying the freedom of RV travel, the last thing you want to worry about is dealing with messy holding tanks, odors, and sensor issues. That's where Clean Camper RV Holding Tank Pods come to your rescue.
Extreme Strength for Peace of Mind
Our specially formulated holding tank pods are designed for extreme strength. They can tackle the toughest challenges with ease, breaking down waste and toilet paper while putting a stop to unpleasant odors.
Safe for All Tanks and Toilets
Worried about compatibility? Don't be! Clean Camper RV Holding Tank Pods are safe for all types of RV toilets and holding tanks. No matter what setup you have, our product is ready to keep your sanitation system running smoothly.
Harnessing the Power of Natural Enzymes
Clean Camper takes an eco-friendly approach to sanitation. We utilize natural enzymes that work with the environment to break down waste efficiently. This not only ensures a clean system but also minimizes your ecological footprint.
Ultra Rapid Dissolve Formula
Say goodbye to worries about paper and waste buildup. Our Ultra Rapid Dissolve formula liquefies all paper and waste, ensuring that your tanks stay clear and trouble-free.
Built to Withstand Extreme Climates
Whether you're camping in the heat of summer or braving the cold of winter, Clean Camper RV Holding Tank Pods are up to the challenge. They work flawlessly in all weather conditions.
Protecting Your Sensors
Maintaining your sensor system is crucial for a seamless RV experience. Our pods are designed to keep sensors clean and functioning correctly, so you can always monitor your tank levels accurately.
Unbeatable Value
With 20 pods in each package, Clean Camper offers incredible value for your money. At less than $2 per pod per dump, you're making a smart investment in the longevity and convenience of your RV sanitation system. 
AND best of all you can use any septic-safe toilet paper, no more expensive RV toilet paper!
Don't let holding tank issues spoil your RV adventures. Trust Clean Camper RV Holding Tank Pods to keep your sanitation system running smoothly, no matter where the road takes you. Order now and experience the difference for yourself.
Clean Campers are Happy Campers
We create products that inspire people to spend time outside, love nature, and create great memories.
We spread the love of nature by providing innovative and practical solutions to common problems that come with being outdoors.

What a big difference the RV bidet makes for keeping us "clean" and best of all minimizing our toilet paper usage.
Tommy
Actual Jayco Precept Owner

I love how we can connect this fire pit to our built-in RV propane tank. Connects in seconds and the hose must be 25' long! We love it.
Sam

Finally a bidet toilet seat that connects to an existing RV waterline and toilet! Took maybe 10 mintues to install.
James