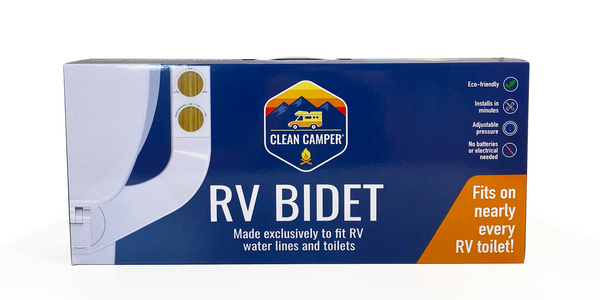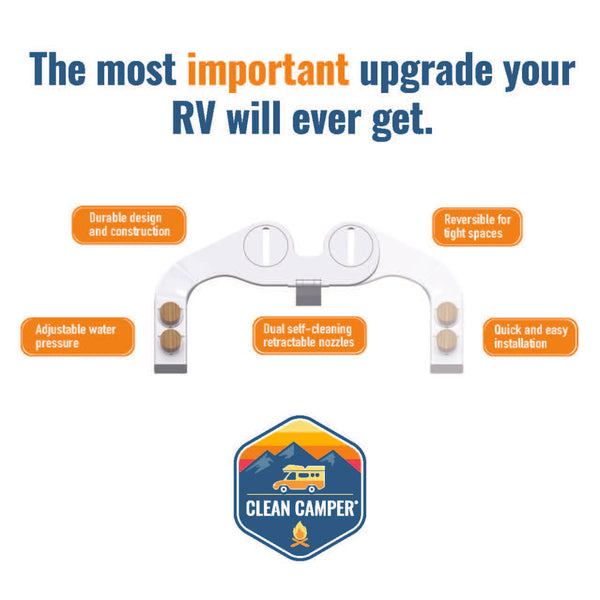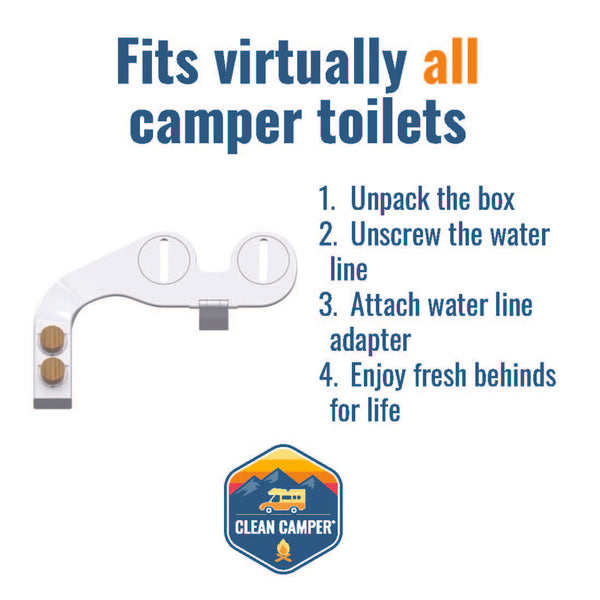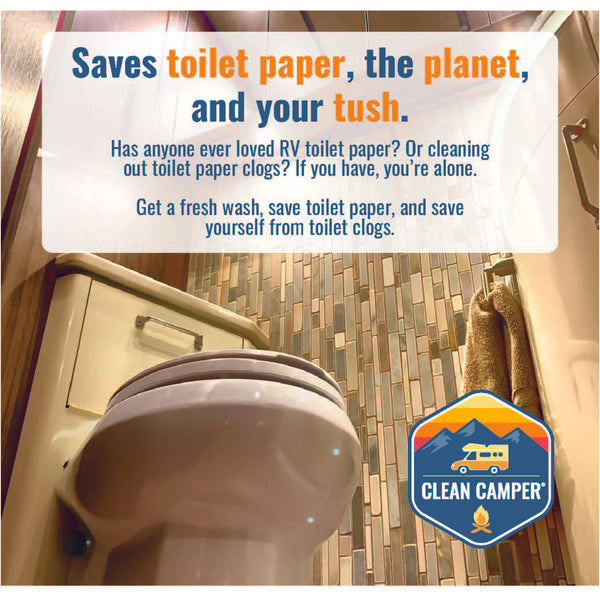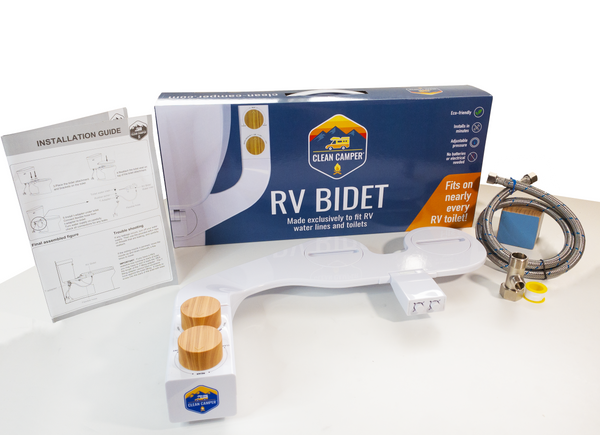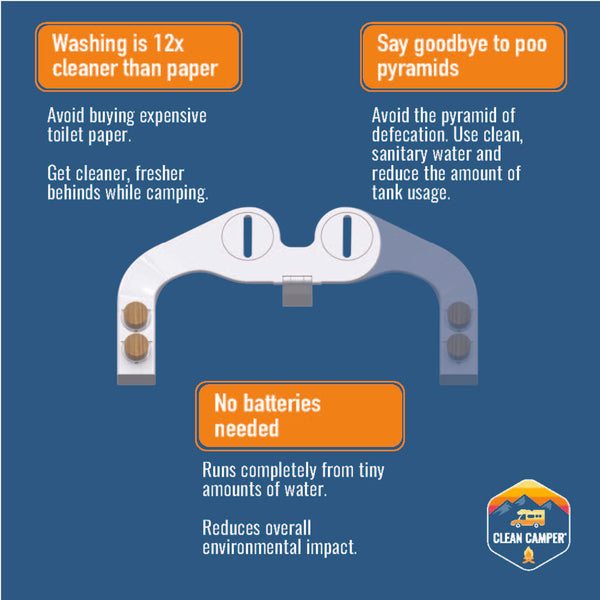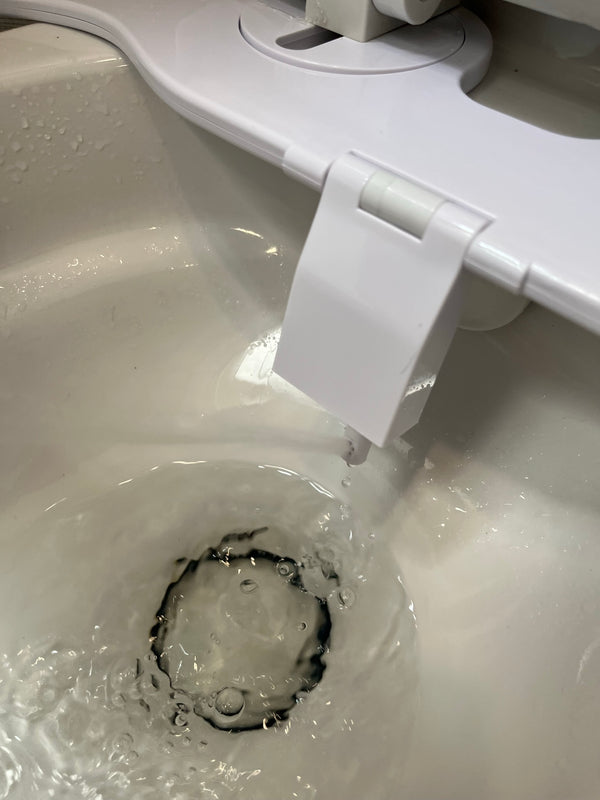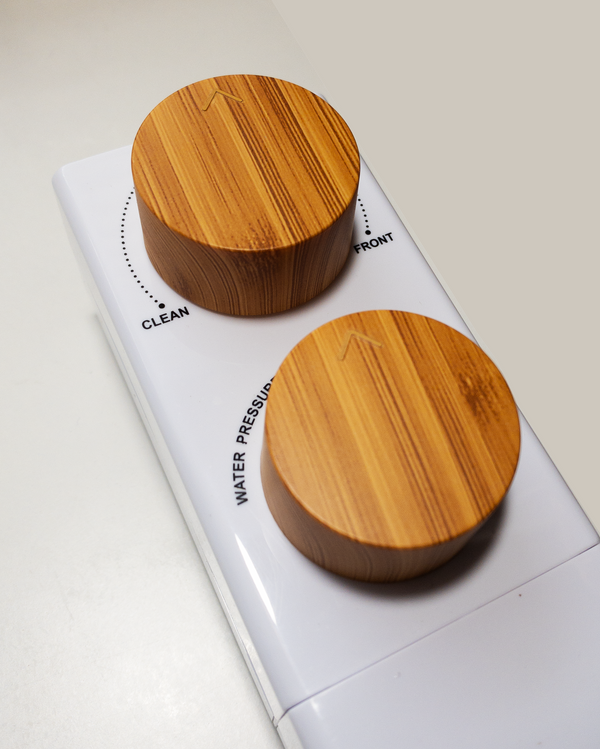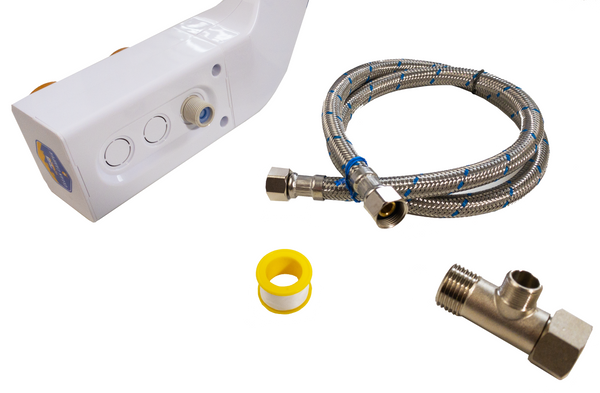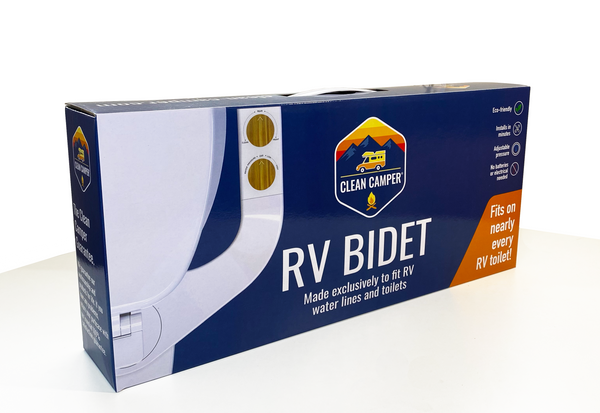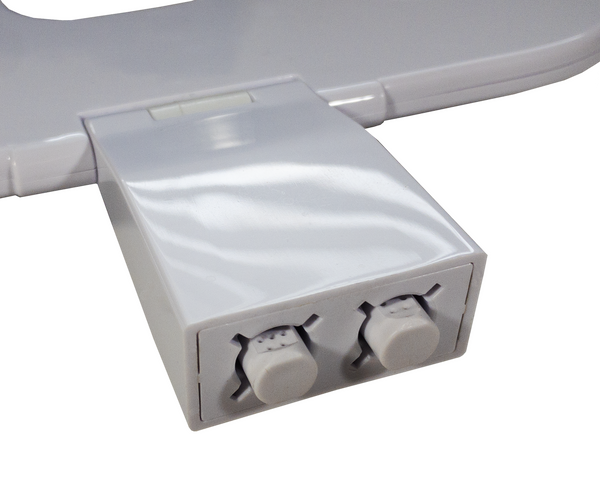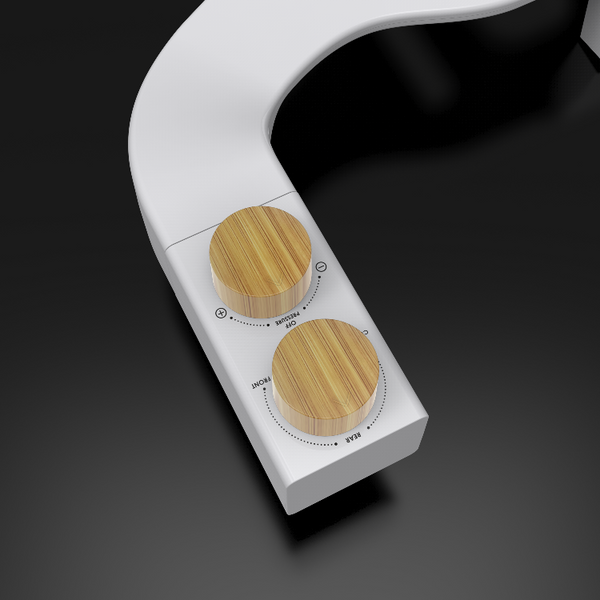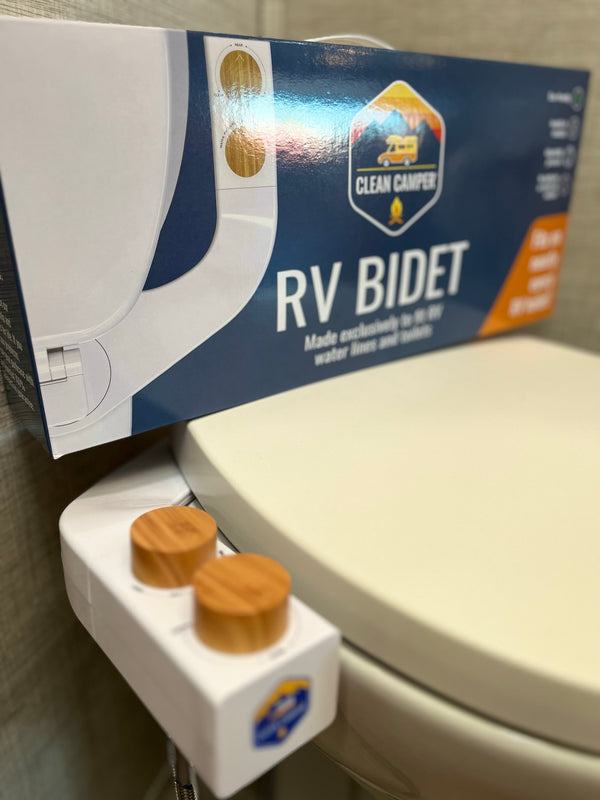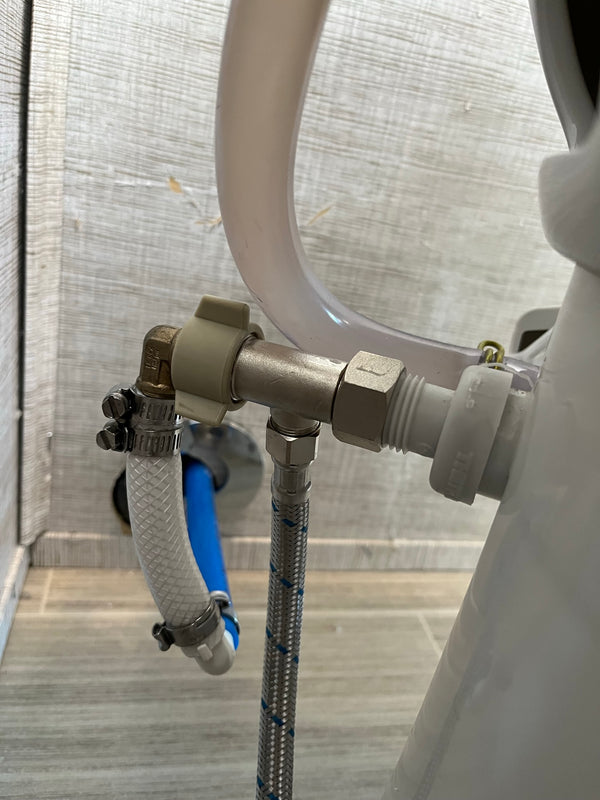 INTRODUCING THE MOST IMPORTANT UPGRADE YOUR RV WILL EVER GET!
The Clean Camper RV Bidet is specifically made to fit your existing RV waterline connection and most RV toilets.  A bidet attachment makes using the bathroom in your RV a much cleaner experience.  No more expensive RV toilet paper or clogs!  
Why install the Clean Camper RV Bidet?
Use 80% Less Toilet Paper
100% Cleaner Than Wiping with Toilet Paper
Keeps Your Holding Tank Cleaner- Clog Free
No More Poo Pyramids
Front and Rear Cleaning
Adjustable Water Pressure
Self-Clean Nozzles
Reversible- Can Fit on Left or Right Side of Toilet
Installs in Minutes
Fits All RV Waterlines and Most Toilets
Uses Same Amount of Water as a Normal Flush
Use Clean Setting to Prefill Your Toilet Bowl Instead of Using Your Foot
Made For Campground Water Pressure or RV Water pumps
No Batteries or Electricity Required- Runs off Water Pressure
Equipped with Back Flow Preventer 
Two-Year Warranty 
 SAVE TOILET PAPER- SAVE YOUR HOLDING TANK- SAVE YOUR TUSH!
Features:

1. Reversible Left or Right Hand Installation: Since most RV's have a close wall to one side of the toilet, you can easily change the controller to fit the left or right side of the toilet.  Do this by simply turning the handle.  

2. Front & Rear Cleaning Nozzles: Two types of nozzles sprayers specifically for the front or rear wash.  Easily control the pressure with the knob.

3. Made for RV's- Highly Compatibility: Our bidet is made to fit all RV waterlines and most of the RV toilets so long as you have water pressure from either the RV water pump or city water connection.

4. Easy Installation: It's so simple and easy to install.  Remove your existing RV toilet seat, place the bidet on the toilet, reinstall the RV toilet seat.  Then, remove the fitting at the back of the RV toilet.  Add our exclusive RV brass T valve to the existing waterline and simply screw it back into the back of the RV toilet.  

5.  No Batteries or Electrical Needed: The bidet works off the existing water pressure from your RV water pump or city water connection.  
6.  Durable and Rugged Construction: This bidet is made for RVs: all the weather temperatures and rough RV movements won't phase it.  The main fitting is also brass, so it will hold up in different PSI conditions as well.  Additionally it has a built-in back flow preventer. 
7 Eco- Friendly: Use 80% less toilet paper, which means less impact on the environment and less cutting down of trees. 
8.  No More POO PYRIMID or Clogs: Use 80% less toilet paper with this RV bidet.  Less toilet paper saves your holding tank and money. 
9. Self Cleaning Nozzles: Simply move the control knob to "clean" and the nozzles will automatically self-clean and the bidet does all the cleaning for you. 
10. Warranty: Clean Camper guarantees the workmanship of the RV Bidet for two-years.  If you have any problems we will replace the RV bidet at anytime with our ironclad 100% satisfaction guarantee. 
11. Save money: Use 80% less expensive RV toilet paper.  The bidet pays for itself in no time!
Specification:

Item Type: RV Toilet Seat Bidet Sprayer
Material: ABS
Color: White
Application: For most RV toilets
Gross Weight: Approx.802g/28.3oz
Additional Features: Female Cleaning, Rear Cleaning, Water Pressure Adjustment, Nozzle Self Cleaning, Reversible installation,  Install in minutes.   Equipped With Back Flow Preventer 
Hose Length: 29.5in


FITS GREAT ON THE FOLLOWING RV TOILETS:
Dometic-  320,311,310,510,8740,321,4310,5009,511,7640, Dometic 7640 macerator
Thetford - Aqua-Magic® Style II, Aqua-Magic® Residence, 42161, 42169, 42153, 42165, 42173, 42157, 42163, 42171, 42155, 42163, 42175, 42159, 42162, 42170, 42154, 42166, 42174, 42158, 42164, 42156, 42172, 42168, 42160, 42176,42070,42071
WILL NOT WORK ON THE FOLLOWING RV TOILETS:
Thetford: Tecma® Silence Plus 2G, Aqua-Magic® Bravura, Aqua-Magic® V Hand Flush, Aqua-Magic® V Pedal Flush, Aqua-Magic®,Aqua-Magic® Style Plus, Deluxe II  Aria® 
Dometic: 300,962,975,301,966,965 or any cassette toilets or portable decomposing toilets 
Email customerservice@clean-camper.com if you have any specific questions or concerns about the RV bidet not fitting on your toilet.  If it does not fit, we will refund the cost of the bidet 100% once you return it to us.   No questions asked. 
NOW AVAILABLE IN CANADA ON OUR WEBSITE ONLY!!! 
Clean Campers are Happy Campers
We create products that inspire people to spend time outside, love nature, and create great memories.
We spread the love of nature by providing innovative and practical solutions to common problems that come with being outdoors.
Our videos
Finally! An Actual Bidet Made For RV's! Installs In Minutes. Fits RV Waterlines and Toilets.
Clean Camper RV Bidet. Made for RV Waterlines and Toilets. No Extra Parts. Installation Video.
Clean Camper RV Bidet - Fuel Your Wander Unboxing and Review
Best Ever Upgrade for Your Rv. Check Out the Clean Camper Rv Bidet!
Review of Clean Camper RV Bidet

What a big difference the RV bidet makes for keeping us "clean" and best of all minimizing our toilet paper usage.
Tommy
Actual Jayco Precept Owner

I love how we can connect this fire pit to our built-in RV propane tank. Connects in seconds and the hose must be 25' long! We love it.
Sam

Finally a bidet toilet seat that connects to an existing RV waterline and toilet! Took maybe 10 mintues to install.
James