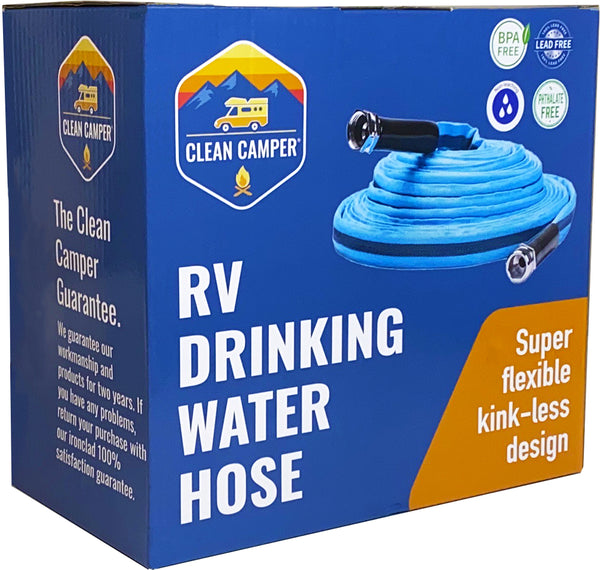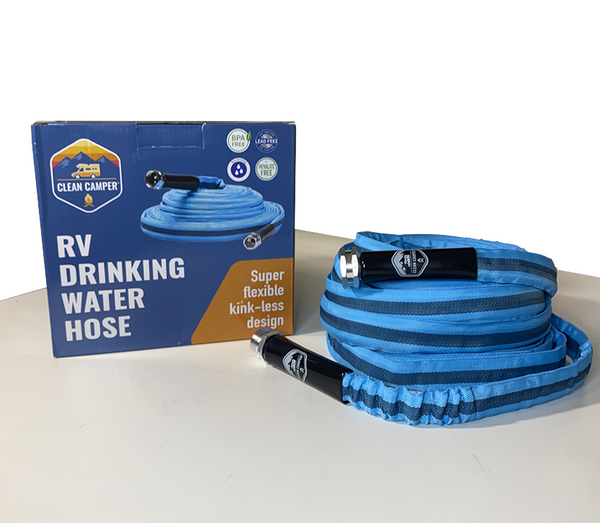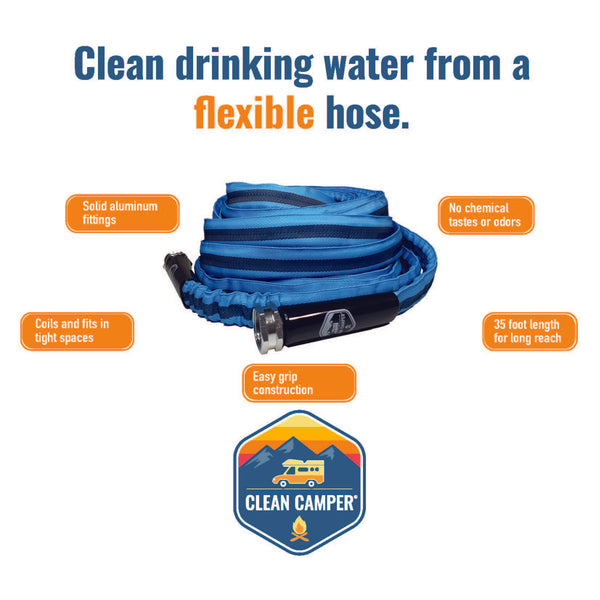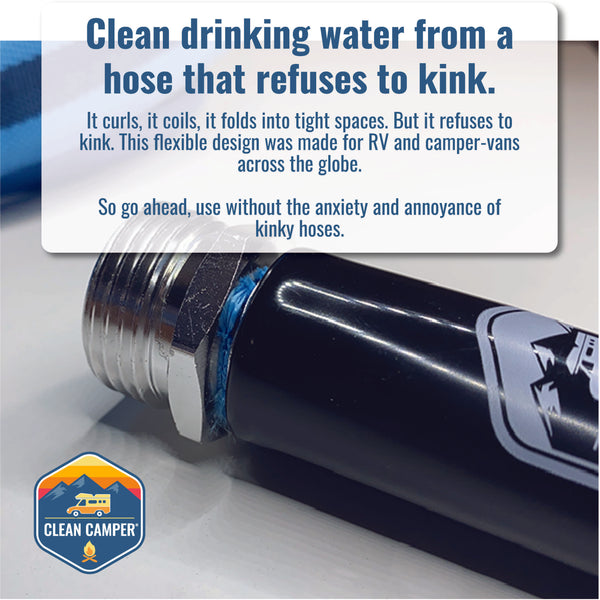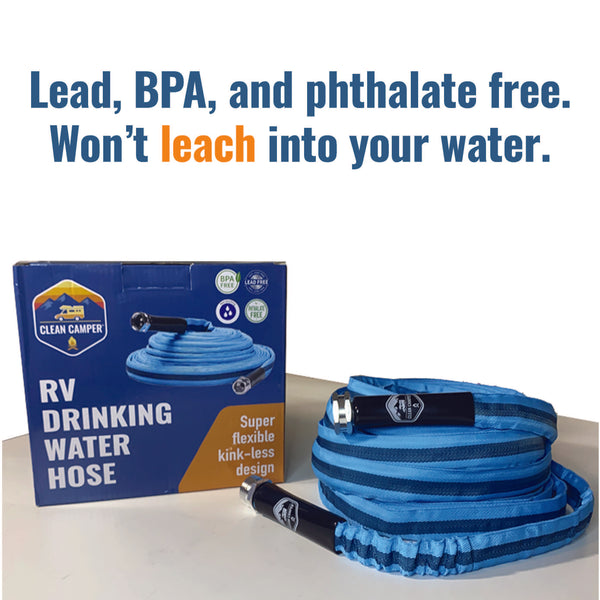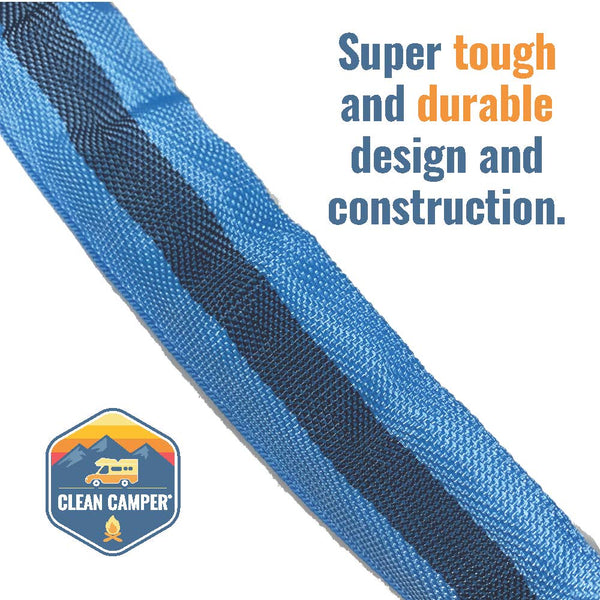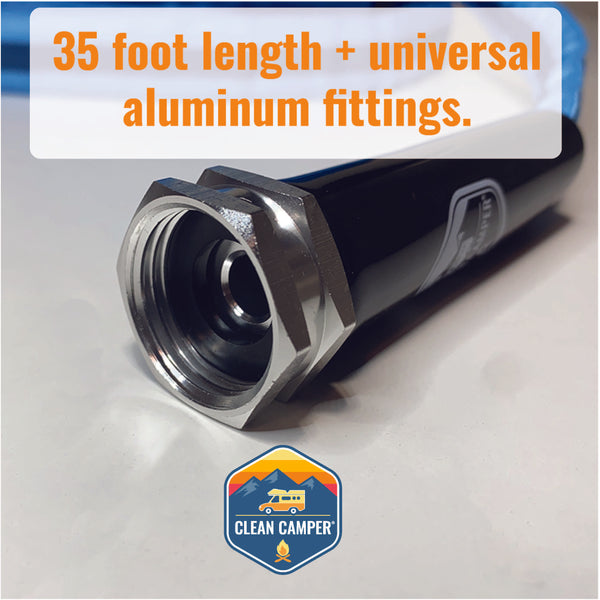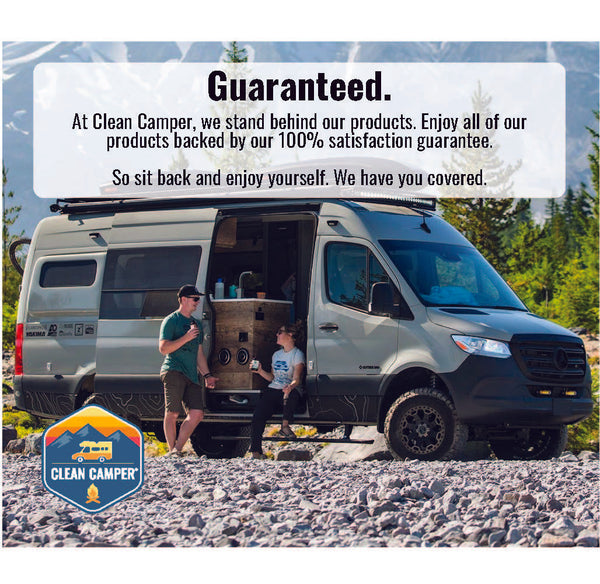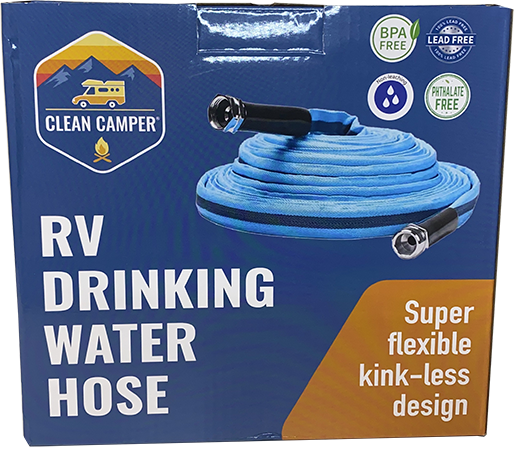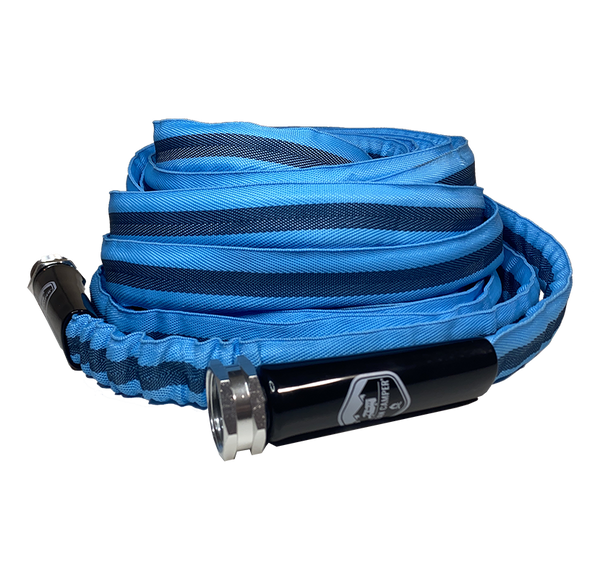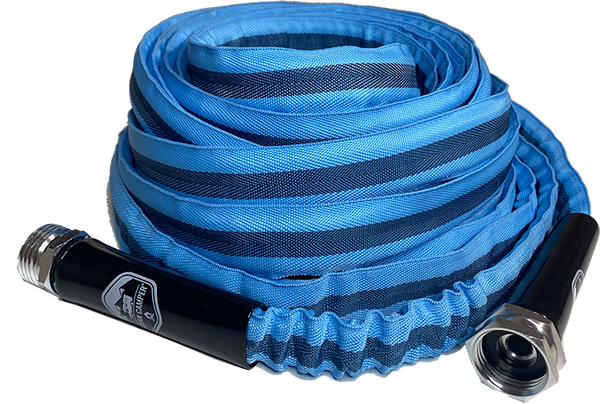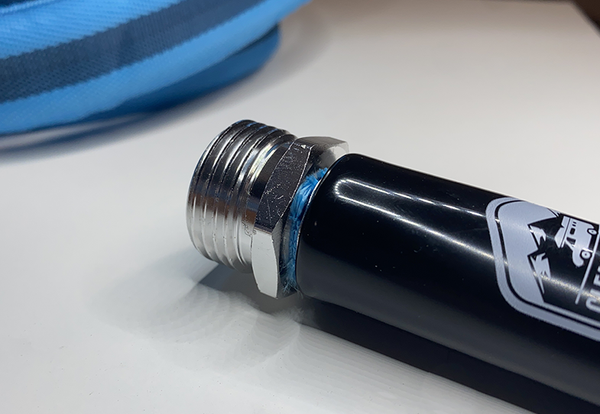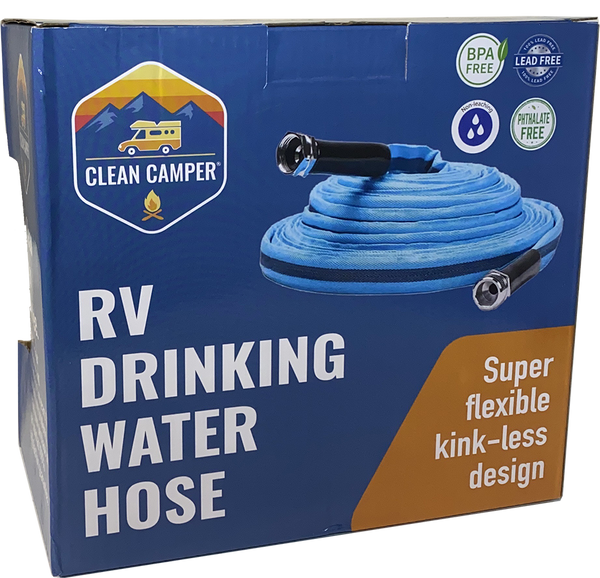 Clean drinking water from a flexible hose!   Its finally here!  No more stiff, impossible to coil and bulky rv hoses that are too small or too long.  The Clean Camper RV Drinking Water Hose is 35' long, just the perfect size for all RV campground hook-ups.
Made from non-leaching materials, our hose is BPA, phthalate, and lead free. So drink with peace of mind.  No odors or smells.  Just clean water delivered to your RV faucets.
BPA Free- Phthalate Free- Lead Free

Solid aluminum fittings on each end

Can withstand 800 PSI

Made for long term water pressure at campgrounds

Easily coils and fits in tight spaces

Kink resistant design

35' long- the perfect size 
Introducing the Clean Camper RV Drinking Water Hose - the perfect solution for safe and clean drinking water on your next camping adventure! Our hose is specifically designed for use in RVs, ensuring that you have access to pure and refreshing water at all times.
Made with high-quality materials, our drinking water hose is durable, flexible, and kink-resistant. It's also free from harmful chemicals like lead, BPA, and phthalates, ensuring that your water stays clean and safe for consumption.
Our hose features a 5/8-inch diameter, making it easy to connect to any standard RV water hookup. It also includes a patented hose saver adapter that helps prevent hose crimping and strain, extending the life of your hose.
At Clean Camper, we understand the importance of keeping your water supply clean and healthy. That's why we've designed our RV drinking water hose to be easy to clean and sanitize, so you can always feel confident in the quality of your water.
So why wait? Upgrade your RV's drinking water system with the Clean Camper RV Drinking Water Hose today and enjoy safe and refreshing water on all your camping adventures!
Clean Campers are Happy Campers
We create products that inspire people to spend time outside, love nature, and create great memories.
We spread the love of nature by providing innovative and practical solutions to common problems that come with being outdoors.

What a big difference the RV bidet makes for keeping us "clean" and best of all minimizing our toilet paper usage.
Tommy
Actual Jayco Precept Owner

I love how we can connect this fire pit to our built-in RV propane tank. Connects in seconds and the hose must be 25' long! We love it.
Sam

Finally a bidet toilet seat that connects to an existing RV waterline and toilet! Took maybe 10 mintues to install.
James